Other Parent Resources

Some of these resources are not necessarily based in New Jersey but we feel they are worth a look. If you have suggestions to add here, please

contact us

.

Just for Dads


Athomedad

- find a group of dads in your local area, advertise your group, communicate with each other, discuss local topics, keep a calendar of events, and otherwise keep your group organized and visible.

From the Sidelines - a New Jersey dad shares his experiences as a father and sports coachDrMoz

- includes a Dad Group directory, new Dad resources and daddy gifts

Stay at Home Dads of NJ

- a Facebook group enabling dads to communicate and set up playdates

Rebel Dad

- to help dads connect with each other. There don't appear to be NJ groups listed yet

Just for Moms


For Playgroups please go to the

Activities

page

Mompreneurs

- listing of companies and websites offering networking, coaching & learning opportunities for the mom looking to create or bolster her own business or working moms seeking others who juggle the mom/work thing

Dooce

- read Heather B. Armstrong's funny, quirky & sometimes irreverent take on motherhood. (Note: her style of humor contains some strong language and may not appeal to everyone).

Circle of Moms

- a social network for all mothers and soon-to-be mothers available on Facebook

CafeMom

- a place for moms and moms-to-be to connect

Momoirs

- the funny things kids say and do, especially to mom

Sandy's blogs - she writes about serious parenting issues, issues affecting moms and the lighter side of parenthood for

NJ.com

and the

New Jersey Mom's Blog
Misc Parenting Resources


Special Needs

- information, resources & facilities specializing in special-needs care & education; includes blogs from parents of special needs children:

Sailaja Sastry's blog New Jersey Specialty Stores

- ParenthoodNJ's list of stores in NJ catering to your child's interests from dinosaurs to dolls to model trains & more

Parental Guidance

- special section of

NJ.com

featuring NJ parents discussing raising children, family life & more in NJ

Baby Center

- Lots of information covering all the stages of your child's development; can sign up for regular emails with informative articles

Parenting

- companion website to the magazine; covers various stages of child development, has a mom section, recipes and more

Parents

- companion website to the magazine; articles broken down by child's age; recipe, general parenting & holiday sections as well

Camp programs

- includes summer & winter camp programs for a variety of ages and interests

Party Planning

- information on vendors, locations & more for planning your child's party

---

On the Road


Travel Resources

- Taking a trip? ParenthoodNJ has compiled a list of sites to help you plan activities with your family

Travel Safety

- check here for keeping your family safe on the road

Techie Learning & Fun

- use your iPhone or iPod Touch to amuse or teach your kids; also some great apps for parents

At Home


Helping the Environment and Animals

- we include suggested reading, websites and other resources to try and live greener, help animals and protect the environment with tips on topics including recycling to recommended cleaning products to how to "adopt" an endangered animal

Local Harvest

- find a farmer's market in your area

Relish

- gives you a weekly food planner and recipe list; monthly subscription
---
Money Matters

---
Organization and Time Management

Articles
Keep Your Home and Life More Organized
by Sandra Lee
Books
Organizing Plain & Simple
by Donna Smallin
The One-Minute Organizer
by Donna Smallin
Real Simple: The Organized Home
Real Simple Solutions
Websites
Get Organized Now
- A lot of articles and tips. You can also sign up for the
free newsletter
, which includes quick suggestions and reader tips.
Real Simple
- there are a lot of great articles beyond organization. They also have free newsletters you can subscribe to (bottom right of home page).
Get In the Game
- This free site allows parents to view all of their children's schedules, regardless of sport, team or club/school, on one page. For team managers and coaches, it enables them to easily communicate with their team and have information in one location.
The Uncluttered Home -
professional organizer from Scotch Plains whose services include helping get your
children organized
; has a
blog
including posts on
toys
and
back-to-school
organizing
---
Just for Fun

© 2009 ParenthoodNJ.com. Use of this site constitutes acceptance of our Terms of Use.
Powered by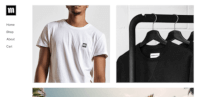 Create your own unique website with customizable templates.